Nicholas Chimney Stove & Fireplace is the Preferred Chimney Sweep, Fireplace, Gas Fireplace & Restoration Service in Northern Virginia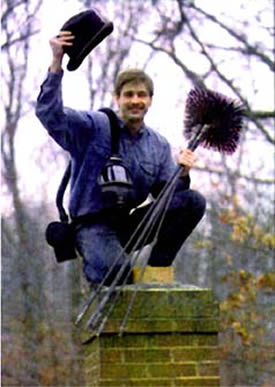 John Nicholas Petro II
Nicholas Chimney Stove & Fireplace has been offering chimney sweeping, chimney restoration and chimney repair services in Northern Virginia and the Metropolitan Washington DC area since 1979. The proprietor, John Nicholas Petro, started the company after reading an article in Mother Earth News about the shortage of chimney sweeps in our country.
Nicholas Chimney specializes in chimney sweeping, chimney repairs, chimney restorations, fireplace services, fireplace inspections, fireplace repairs, gas and fireplace repairs and maintenance, fireplace restoration service, spalling bricks, and chimney inspections.
We sell: fireplaces, woodstoves, woodstove inserts, gas stoves, gas stove inserts, and fireplace accessories. Our store is stocked with fireplace accessories and if we don't stock it, we can order it for you.
Chimney Service Employees with Specialized Training
Through the years, Nicholas Chimney has built up an inventory of specialized equipment so that we can have the tools and equipment necessary for any chimney service need. However, equipment alone does not make a company professional. That is why John Nicholas Petro sees that his employees receive the proper training to ensure quality work. He has sent a number of his people across the North American continent where they received extensive training in chimney restoration.