Chimney Sweeping Services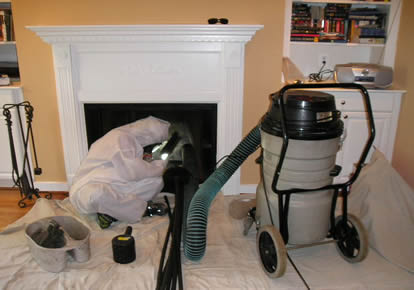 Nicholas Chimney Stove & Fireplace combines high- powered vacuums with traditional brush scrubbing to remove dangerous soot and creosote from your fireplace or furnace flues. Fires, which start in dirty chimneys, generate tremendous amounts of heat causing flue liners to crack. Houses can catch on fire and carbon monoxide can escape through defects into the house.
Chimney Repair Train Station, Vienna Virginia


Our Chimney Sweeping & Repair Services
Chimney Inspections
We perform Level I, II and III Chimney Inspections in accordance with the National Fire Protection Association Standard 211 (NFPA 211).
Chimney Caps, Dampers & Damper Repairs
Keep warm, cozy air inside your house; keep the rain and critters out. Chimney caps and dampers do this, when working properly. When they don't, we can either repair an existing cap or damper, or replace it with a new one. If the damage has already been done, we'll correct it. This can mean an additional cleaning, and removal.
Chimney Relining
Make your fireplace function like and look new: our employees specialize in relining chimneys that have either been damaged or built improperly. We can also rebuild fireboxes for a more pleasant facade. Chimney restorations have never been a better experience!
Masonary Restoration
We attend to the prevention and correction of water damage to chimneys. We expertly tuck-point to correct water damage to mortar joints and waterproof to aid against deterioration of brickwork.
Fireboxes Rebuilt
Because the bricks in the firebox are exposed to intensely high heat, they should be inspected regularly. Nicholas Chimney Works can rebuild all of the firebox or just the back wall if needed.
Dryer Vent Cleaning
Dryer vents need to be cleaned out regularly in order to maintain efficiency and to prevent dryer fires. A clogged dryer will increase drying time to the point that clothes will not dry. The first sign there is a problem is when your dryer runs through its cycle two or three times before the clothes dry. Cleaning is done with spinning brushes that are pushed through the vent system.